June 25, 2021
In ITS America's 2021 policy blueprint, which sets the framework for thinking about the future of mobility and ensuring a safer, greener and smarter transportation system in the United States, six broad categories of transportation technology are highlighted. And while each of these innovative categories have their own unique ways of improving and, indeed, disrupting the world of transportation, it is what fuels them and ties them all together that requires a broader conversation.
Whether we focus on smart infrastructure, vehicle-to-everything (V2X) and connected transportation, automated vehicles, mobility on demand, emerging technology or sustainability and resiliency, the one element that underpins and indeed interconnects each of these central themes is data.
The key to making the data work for our cities and communities, however, is enabling its seamless movement throughout the mobility infrastructure – the very systems that transport both people (whether in vehicles, on public transit or walking and riding bikes) and goods (from commercial vehicle fleets and ground delivery trucks to unmanned air vehicles), with the ultimate goal of providing safe, sustainable and equitable transport. All of this movement is enabled by the data that are harnessed, analyzed and disseminated by technologies such as cloud-based software applications and cloud-enabled intersection hardware, powered by the latest machine learning, artificial intelligence and data analytics capabilities.
As arbiters of the proliferation of data and mobility intelligence, we must also do all that we can to ensure the privacy of individuals' personal data privacy, while also putting controls in place to keep our infrastructure secure.
A changing landscape
Populations are swelling, cities are becoming more crowded and congested, and new devices and technologies are generating more data than ever before. So there is understandably a mix of excitement and trepidation among transportation industry participants about the sheer breadth and depth of available information.
Ultimately, however, these data are critical in helping us understand the moving habits of people and their needs – whether from in-field devices such as smart detection sensors and roadside units, onboard devices in vehicles, personal mobile devices in people's pockets or the aggregated insights that can be harnessed from mobility intelligence software solutions.
In my view, and with the safety, efficiency and sustainability of transportation in mind, it is vital that we increasingly embrace, become fluent in and advocate for better understanding of transportation data and its increasing proliferation throughout mobility infrastructure.
How data can make a difference
At a macro level, data help us to understand the past so that we are better able to predict the future. Why is this important? Transportation is a people business, in which our customers are essentially the entire population. Understanding our communities' transportation needs – i.e. when they travel, how often and for what purpose – enables us to provide a better service. Therefore, integrating as much of these potentially lifesaving data as possible into the mobility infrastructure is critical in our collective drive to both serve our communities and future proof our transportation systems.
Zooming in slightly, roadways must safely accommodate pedestrians, buses, taxis, ride-hailing services, cyclists, scooters, skaters and more. Whether we talk about artificial-intelligence powered detection sensors on traffic signal mast arms that can detect and differentiate between vehicles, cyclists and pedestrians, or the V2X communications technology that can take that information and relay it to vehicles' onboard units to alert oncoming drivers that people are present on a crosswalk, data and the seamless communication of those data can save lives.
Future proofing America's mobility infrastructure
With all the opportunities these smart mobility technologies present in making our communities more effective and efficient at moving people, goods and data, it is critical that we invest in overhauling some of the older and outmoded systems and infrastructure.
With more connected and automated, and increasingly autonomous, vehicles on our roads, expanding wireless communications bandwidth capabilities, emissions-reducing initiatives and the expanding risk and urgency surrounding cybersecurity, a truly 21st century approach to integrating data into each layer of our mobility infrastructure is going to be key to ensuring our system is safer, greener, smarter, and more equitable.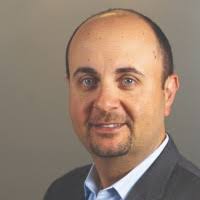 Ramin Massoumi, P.E is Senior Vice President and General Manager for Iteris
and is the Chairman of ITS America's Board of Directors.