An ITS America & IRF Partnership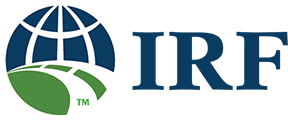 ABOUT THE PARTNERSHIP
ITS America is dedicated to expanding knowledge and sharing information within the ITS sector. In that vein, we are proud to share with our members an exciting new opportunity to grow your professional skills and knowledge related to urban mobility, traffic management, mobility pricing and the use of big data / machine learning to enhance transport operations.
Through a new partnership with the International Road Federation (IRF), ITS America members can take advantage of a special discounted rate on upcoming online and in-person training sessions, all of which provide continuing education credits.
From our friends at IRF: As a strong believer in continuing education, the IRF provides members as well as road professionals worldwide with educational and professional development opportunities and resources. Our Global Training Curriculum provides technical expertise in classroom and practical settings where attendees can learn from and have direct access to seasoned professionals. Each course not only provides the most relevant, up-to-date information and best practices and solutions, but is also designed to assist attendees in learning to correctly apply the knowledge gained.
Check out the upcoming sessions at [LINK]:
[OPTION 1]
UPCOMING SESSIONS
ROAD USER CHARGING (IN-PERSON)
Date: February, 2023
Session Details:
Lorem ipsum
ITS PROJECT DESIGN AND DELIVERY (VIRTUAL)
Date: March, 2023
Session Details:
Lorem ipsum
ADVANCED TRAFFIC ENGINEERING: FOCUS ON THE TRAFFIC MANAGEMENT CENTER
Date: April, 2023
Session Details:
Lorem ipsum
DIGITAL TWIN APPLICATIONS FOR ROAD PROFESSIONALS
Date: May, 2023
Session Details:
Lorem ipsum
ARTIFICIAL INTELLIGENCE FOR SAFER ROAD MOBILITY
Date: June, 2023
Session Details:
Lorem ipsum
[Option 2]
UPCOMING SESSIONS
ROAD USER CHARGING (IN-PERSON)
FEBRUARY, 2023
DESCRIPTION
REGISTER
ITS PROJECT DESIGN & DELIVER (VIRTUAL)
MARCH, 2023
DESCRIPTION
REGISTER
ADVANCED TRAFFIC ENGINEERING: FOCUS ON THE TRAFFIC MANAGEMENT CENTER
APRIL, 2023
DESCRIPTION
REGISTER
DIGITAL TWIN APPLICATIONS FOR ROAD PROFESSIONALS
MAY, 2023
DESCRIPTION
REGISTER
ARTIFICIAL INTELLIGENCE FOR SAFER ROAD MOBILITY
JUNE, 2023
DESCRIPTION
REGISTER