As I fly across the country leaving the 2021 ITS America Annual Meeting in Charlotte, North Carolina, I'm reflecting on everything I learned, from our incredible membership and strong programming to understanding the Infrastructure Investment and Jobs Act's impacts on society to hosting events and our team.
Our membership is some of the most talented in the country – leading innovators, thought leaders, startups, researchers, and community advocates seeking positive change in their communities. Some of our members focus on what is known traditionally as ITS operations like traffic operations and systems engineering. That is the foundation of ITS and will never change. However, what is incredible to me is to see a rapid expansion of growing interest in future mobility – a holistic view of how ITS is the foundational backbone for seamless mobility, autonomous technologies, connected vehicles, electric vehicles, sustainable technologies, and other innovations that continue to emerge. Our industry is one of the few that continues to pivot, scale, and emerge with new ideas that build on each other, showing how we continue to collaborate and innovate to move forward as an industry, not in silos.
I had the pleasure of seeing friends and meeting new faces – many of whom had not been together in the same space in nearly two years. This conference reinforced what we already know about the importance of human connection – that true innovation, collaborative brainstorming, and strategic vision happens in person – and that we can find ways to safely and meaningfully engaged even amidst a dynamic and challenging pandemic.
As we enter the new year, we are reminded to celebrate our successes and resiliency in a very challenging and dynamic time. Below are key takeaways I will continue to celebrate as I draft my own resolutions for the new year to advance our vision of a future that is safer, greener, and smarter.
The ITS America vision is still extraordinarily relevant, important, and holistic – Our vision for a better future transformed by intelligent mobility that is safer, greener, and smarter continues to be a systems approach to saving lives, promoting sustainability and resiliency, and growing equal and affordable access for all. We all have inalienable right to life, liberty, and the pursuit of happiness and technology and innovation are critical components to championing those rights. ITS America is committed to ensuring that at the cusp of a historic investment in infrastructure and the transportation system, technology will be integrated into our system in equal and meaningful ways.
We have incredible members who are engaged, willing to share their ideas, willing to bring in new voices, and serve as mentors to other new and emerging voices in the industry.
We are becoming smarter. The content in our sessions was some of the strongest, most dynamic and thought-leading that I've seen in years. Dozens of attendees remarked how valuable the thought leadership and learnings were for their individual work and our collective practice. It's another reminder that as our industry continues to grow, we need more spaces like this to convene, discuss, and coalesce our ideas into the American vision for ITS.
We are becoming more diverse, challenging the status quo and championing equity to create belonging. From MobilityXX's vision to more diverse panels, public and private leaders committing to expand their understanding of diversity, equity and belonging, our industry has been called to action, and we are heeding that call wisely, intentionally, and meaningfully. We have much work to do to bring more women and people of color into our field, but as Ruth Bader Ginsberg noted "Change, real change, happens one step at a time."
We are committed to a coordinated effort to ensure technology is at the heart of the IIJA's successful implementation. This moment of historic investment is top of mind. We must all work together for a coordinated approach to implement these programs so we don't harm communities and repeat the mistakes of our past. ITS America will continue to be the leading voice demanding that technology is integrated into these funding opportunities and to help scale successful technologies by sharing best practices, providing guidance to members, informing federal leaders, and convening across sectors.
We are the best ITS team on the globe. ITS America has one of the best teams on the globe. As an association, ITS America remains a small but mighty team as it's known among staff. I have never, in my entire career, met a more dedicated team of empathetic professionals committed to the same vision and committed to supporting each other. From our events team who organized one of the most successful and largest conferences in 2021, to the policy and programs staff that developed content and moderated dynamic sessions, to the executive leaders who championed this work – the ITS America staff and their partners are the heart of this work. People are our most valuable resources, and we must continue to commit to their health, wellness, development, coaching, and success. As we often say in our industry, technology is the means to achieve our goals of safety, sustainability, and equity. Conversely, we are able to lead in this space because of the brilliant minds – young and old, of all genders, cultural identities and life experiences – who continue to mold the vision of our future and take our ideas and implement them into meaningful action.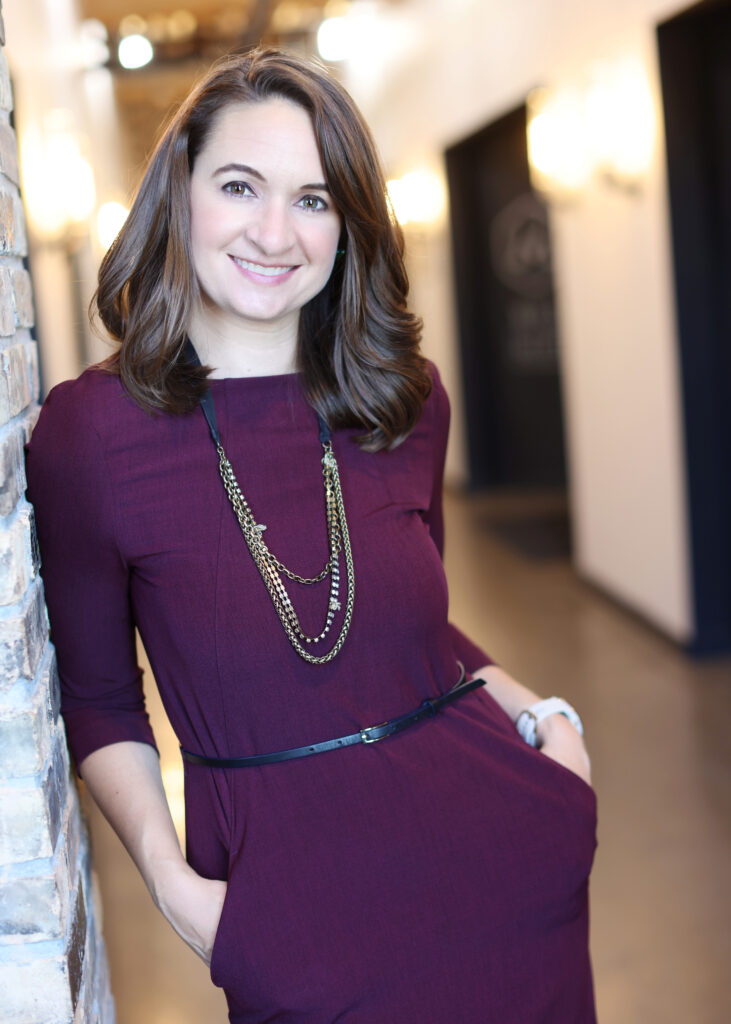 Kristin White, J.D. is ITS America's Chief Operating Officer.
Contact her at kwhite@itsa.org